1 year Ago By /
What is the most important factor in trying to sell a product? Many people would agree that correctly marketing your product to the wants and needs of the consumer is what drives success in any industry. So why not use the top advertising and branding professionals to market your product as best as possible? That is not a trick question. You should use the best marketing agencies out there to advertise your product the right way, and that is what you're getting when you partner with AJ Ross Creative Media.
Here at AJ Ross, our mission is to provide winning strategies and produce creative solutions that continually get results for our clients. We strive to create a competitive advantage against top competitors by generating powerful advertising concepts and connecting with our clients to find the big picture. Our work in web design, social media, branding, and digital marketing has reached a wide range of clients and has led to beneficial partnerships.
All of these positive relationships that we have built over the years have helped us become one of the leading agencies among advertisers and marketers in the legal field, according to Clutch. We were also recognized as a top PR firm for companies in the healthcare and financial technology spaces.
Clutch is an established B2B ratings and reviews company headquartered in Washington, D.C that also conducts in-depth market research. Its team of business analysts collects relevant business data and performs interviews with clients to rate companies based on their ability to deliver. These interviews are how we get the best feedback on what we do well and what we can improve on.
Reviews such as this one from the President of The Global Garden Foundation have helped us build our brand as a top marketing agency.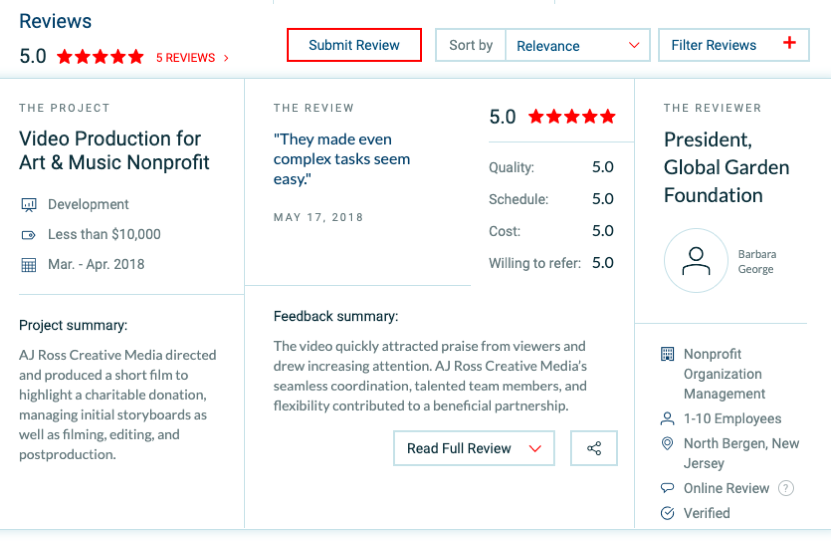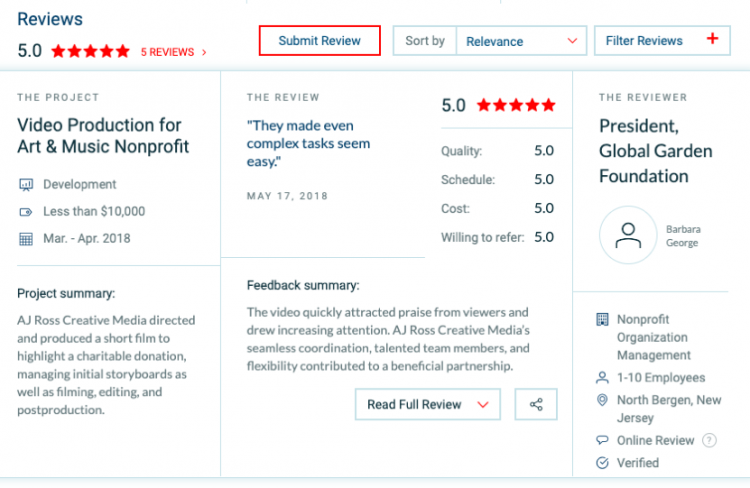 In addition to our reviews on Clutch, The Manifest, a sister website of Clutch, added us to their list of top firms in creative media. Readers can also see how we compare with the best agencies in our field on Visual Objects, a digital portfolio site.
"We are honored to receive this award. We thank all the talented people at AJ Ross Creative Media throughout the years who have made us a top agency in New York, New Jersey, and the Hudson Valley." – Allan Ross, President & CEO, AJ Ross Creative Media
It's such an honor to be named a top agency in the legal, real estate, healthcare, and financial technology fields. Thank you Clutch! If you have any questions about our services or want to learn more about what makes us successful, feel free to contact us or read our ratings and reviews on Clutch!