7 years Ago By /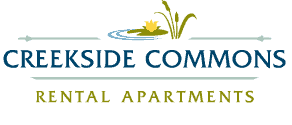 Everything Starts With A Brand
Our first challenge was to build a logo that embodied the natural environment of the area that sparked the name Creekside, as well as the comfortable style of the homes themselves. The simplified design and subdued color tones were chosen to create a feeling of relaxation and privacy inspired by the area. We know that every great brand starts with a logo design, and from there, the relationship between the brand and the clientele can grow based on familiarity and assurance. By solving this initial challenge or designing the right logo, we opened the door to a brand that would remain consistent in its look, feel, and function.
Real Or Stock For Your Marketing Materials?
When starting to build our marketing materials, we knew we needed to find imagery to support the natural style of the brand we had initiated with the logo design. The name Creekside itself lent us a great starting point when imagining what direction the imagery should take. And it was here that we saw the opportunity to hire a professional photographer to capture the beautiful landscape surrounding the new community. Local photographer, Nathaniel Baines of Southern Tire Photography, was able to capture the picturesque location beautifully. Normally, stock photography offers us the best options when choosing photos for our marketing materials. However in this case, our professional photographer was able to recreate a stock image we had already begun to use in our designs, but with the real creek-side landscape of the community's location. This ideal shot made the pocket folder design not only unique, but also brought a level of connection for the new residents that could not have been reached with just any stock photo.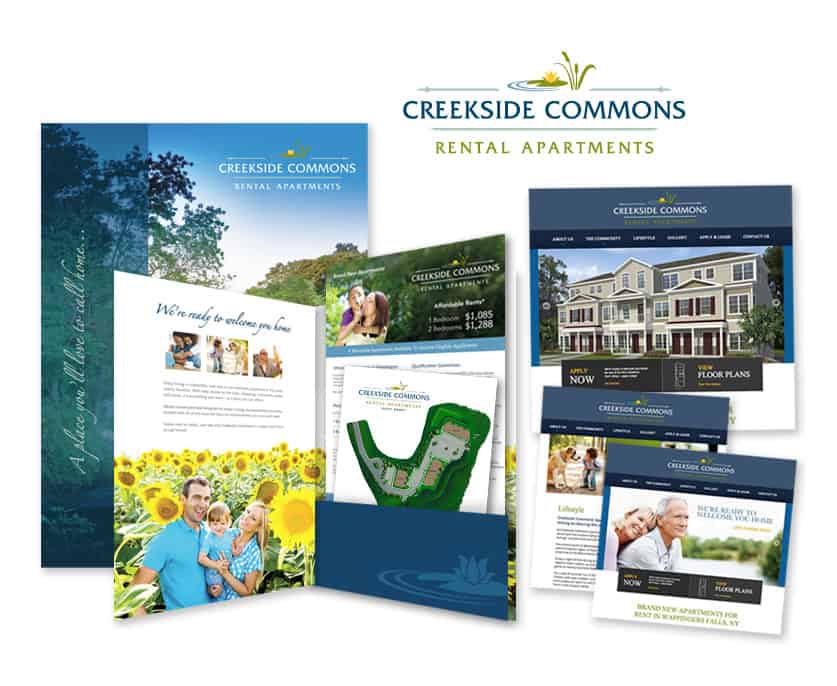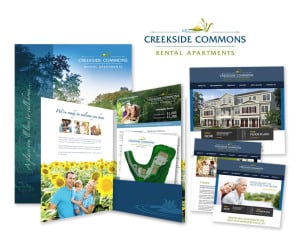 The Key Is Organizing
In order to make sure that the marketing materials we created for our client were ideal for their needs, we took a look at how the employees and sales team would be using these materials to solicit new residents. Although some of the materials may be the same for builders and developers across the board, the specific needs of each client vary in tremendous ways. Here's where planning out each collateral piece for its form and functionality comes into play, and makes a big difference in the success of their use. Together with the client, we refined their marketing materials and floor plan models by using color coding, concise options, and clear organization to make it easy to get the right information; whether it's an employee or customer using the data, or whether they're using them in print or online.
Our focus is, and always has been, to create a full branding, marketing and advertising package that visually sustains a real estate developer's brand, with easy functionality to help them succeed at selling all of their properties.
Visit our Real Estate Page and download our brochures to see more real estate developer marketing case studies.